Flooring Stores Toronto Residents Prefer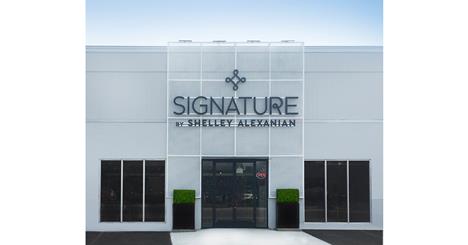 Making a flooring selection is almost as complicated as choosing a house. If you make the right choice, you will be happy with it for many years to come. At Alexanian, we understand that Toronto homeowners take great pride in their residences and need top-quality products and services to keep each space looking its best. For nearly 100 years, we have provided our Canadian customers with excellent service throughout their entire purchase, installation and maintenance process. If you would to see the flooring or window coverings Toronto trusts, you will find them right here.
Alexanian Has the Hardwood Flooring Toronto Needs
When you are thinking about getting new flooring for your home or business, a store with a great selection is a wonderful place to start. Our flooring options include:
You will find everything you need and an expert sales staff to help you make a choice at any of our three Toronto locations:
Toronto Castlefield — Signature by Shelley
81 Ronald Ave.
Toronto, ON Canada
M6E 4M9
(416) 613-7777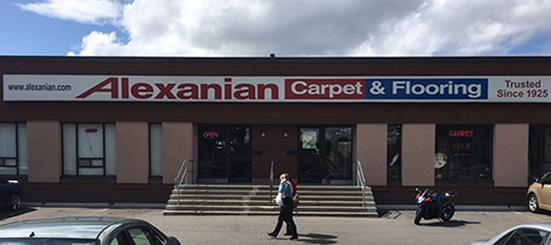 Toronto Dufferin
4884 Dufferin St. Unit 4-5
Toronto, ON Canada
M3H 5S8
(647) 775-0252

Toronto Laird
845 Eglinton East
Toronto, ON Canada
M4G 4G9
(416) 644-7596
Window Coverings Toronto Residents Love
If you worry that your new flooring might make the rest of the room look outdated, we can help with that, too. We offer a delightful selection of window coverings to fit the look and needs of your room — whether that's modern, classic or energy-efficient. Consider our options:
Shades
California shutters
Sheers
Blinds
Vertical blinds
We know that new window coverings can remove years from a room in an instant, leaving it fresh and updated. We're happy to assist you in finding a design that will work well with your flooring and furnishings and offer easy operation and maintenance.
Carpet Installation in Toronto 

Once you make the selection, you want to know that our attention to detail will continue until the project is complete. When you are looking for carpet stores in Toronto, we aim to be the one store you need for all of your flooring products and services.

Are you looking for new flooring or window coverings? View our selection online or in person at one of our Toronto stores. If you want to get your selection installed as quickly as possible - count on our team of expert installers to take care of it.

Thinking about a custom area rug to match? We have a large variety of colours and styles from which you can choose.

Have a rug or carpet that needs cleaning or repair? We can restore it to its original condition. When you're ready to schedule a cleaning or maintenance service to keep your flooring, rugs or upholstery in like-new condition, call us!
Visit the Rug Stores Toronto Homeowners Respect
Want to see the flooring and window coverings Toronto homeowners love? Hoping that an expert can make your ideas come to life? Here is your chance. If you are ready to transform your room with new area rugs, flooring or window coverings, visit Alexanian or use our Shop-at-Home service.