Back to stores list
Guelph

Where to find us
20 Woodlawn Rd. East
,
Guelph
,
ON
,
Canada
N1H 1G7
Get directions
Hours
Mon. 9:00 am - 6:00 pm
Tue. 9:00 am - 6:00 pm
Wed. 9:00 am - 6:00 pm
Thu. 9:00 am - 6:00 pm
Fri. 9:00 am - 7:00 pm
Sat. 9:00 am - 5:00 pm
Sun. 11:00 am - 3:00 pm

Guelph Manager - Jim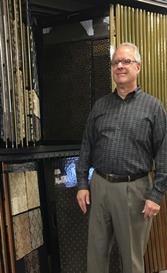 Picked the Perfect Area Rug
I worked with Alexanian's on a project for my website and couldn't be more pleased. I loved the online selection and enjoyed working with Jim, the manager of my local Guelph store. He kindly brought in four samples for me to bring home and try out in the space, allowing me to make a great decision and pick the perfect rug. I am so pleased with the final rug, love the quality and would definitely look to Alexanian's for more decor needs in our home.

Heather, Guelph, ON -
Beautiful Canadian Hardwood Flooring
Main floor and basement stair removal of carpet and tile.....replaced with a Canadian hardwood product. Initially I had difficulty picking out the desired flooring but was guided by the sales people. Next came the demolition which was made less stressful.

I would certainly return to Alexanian for further hardwood flooring, area rugs, carpets and cleaning products.

D. Guelph ON -
Been Customers For Many, Many Years
We have been customers of Jim and Jason Gosselin of Alexanian Guelph for many many years. Jim and Jason are both always willing to help find the perfect product; providing a high quality of knowledge, service and satisfaction.

Rob and Jane, Guelph ON -
Especially Pleased with our Custom Hardwood Flooring
We have known Jim and Jason at Alexanian's in Guelph for many years. They always do a great job and have provided all the flooring in the house. We are especially pleased with the custom hardwood they designed and installed in our living room. I strongly recommend them!

Brian, Guelph ON -
Great Place For Flooring
Due to the great customer service from Jim, I got a beautiful carpet, pad and installation at a great price which beat out the competition. I am very satisfied with the new carpet. This is a great place for flooring.

Debbie, Guelph ON -
Expert Hardwood & Window Shutter Installation
Jim and his team installed hardwood in my dining room and my master bedroom and shutters on the windows in the family room. All installations were handled professionally, by friendly expert installers, who worked quickly with minimum disruption. I highly recommend Alexanian and Jim and Jason at the Guelph location. I will be calling on them first for all my future projects.

Yvonne, Guelph ON -
Friendly Service & Great Quality Product
Great, friendly service and had a better quality product at lower prices then big box.

K.S., Guelph ON -
A++++
Dealing with Jim was a breeze. This is the second set of stairs I've had Alexanian Carpet do. A++++ Would highly recommend!

J.R., Guelph ON -
Alexanian's ... excellent staff and service !
The staff and service from Alexanian's is excellent. I have had two cases in which carpeting had to be installed on very short notice. Alexanian's were there when I needed them. I would recommend them for any carpeting or flooring projects.

L.L., Guelph ON -