Back to stores list
Brantford

Where to find us
57 Copernicus Blvd.
,
Brantford
,
ON
,
Canada
N3P 1N4
Get directions
Hours
Mon. 9:00 am - 5:30 pm
Tue. 9:00 am - 6:00 pm
Wed. 9:00 am - 6:00 pm
Thu. 9:00 am - 6:00 pm
Fri. 9:00 am - 6:00 pm
Sat. 9:00 am - 4:00 pm
Sun. Closed
Bob Taylor - Alexanian's Brantford Manager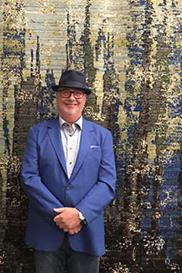 Amazing Experience
Great selection and a great price for the large amount of high quality laminate we were buying. We called numerous places and no one could match their price. Scott was extremely helpful and really nice to deal with. They were also very nice to hold our order for us while we were working on our basement. Amazing experience!

S.L. Brantford ON -
One Stop Shop
Bob is great to deal with. One stop shop for all your flooring needs.

Manny, Brantford ON -
Good pricing
Good pricing

RESPONSE

Hello Brad
Thank you for your 5-Star review of Alexanian's Brantford location. We appreciate your acknowledgement of our "good pricing" as we always strive to remain competitive without jeopardizing the quality of our products and installations. We look forward to your next visit and thank you again.
Sincerely, Wendy Alexanian

Brad, Brantford ON -
Knowledgeable Staff
Excellent service, knowledgeable staff, not pushy sales environment

RESPONSE

Thank you Dennis for posting your review. Our Brantford store manager Bob Taylor and his team will be thrilled to read your feedback and appreciate you taking the time to share your kind comments.
Sincerely, Wendy Alexanian

Dennis, Brantford ON -
Custom Shade for an extremely large window
We needed to control the heat due to the large amount of sunlight coming in all day due to the size of this beautiful window. Alexanian's came in with options and within a few weeks, they had it installed. It was such a great addition to the house. We will be using them again in the future.

Ede, Brantford ON -
Excellent !!
Excellent people to deal with.

A.R., Brantford ON -
Alexanian Brantford - Come and be inspired!


Alexanian's Brantford location offers some of the most innovative flooring and window covering options in the region and our focus on installation and service means that we are always here to help. Whether you are having your Hardwood flooring installed, or having a custom area rug fabricated our team will always ensure that you are informed every step of the way from your initial contact through the installation and delivery process. With so many options available, you can depend on our flooring representatives to answer any of your questions and determine which floors will be best suite your lifestyle. Our staff welcome the opportunity to make this process enjoyable and fun. Looking for something out of the ordinary? Let us help you find it. And with our buying power, you will enjoy great savings! Some of the Brands at Alexanian's Brantford Store:
Karastan fine rugs and broadloom
Fabrica Carpet
Masland Home
Shaw Floors
Mohawk Floors
Nourison Rugs & Broadloom
Stanton carpet
Feizy Rugs
Capel Braided Rugs
Preverco Hardwood Flooring
Mannington Flooring
Hunter Douglas Window Coverings
California Shutters
Signature by Shelley Alexanian in rugs, carpet, and hardwood flooring
and so many more...
Back to stores list