Back to stores list
Barrie

Where to find us
56 Barrie View Dr. Unit 2
,
Barrie
,
ON
,
Canada
L4N 8V4
Get directions
Hours
Mon. 9:00 am - 9:00 pm
Tue. 9:00 am - 9:00 pm
Wed. 9:00 am - 9:00 pm
Thu. 9:00 am - 9:00 pm
Fri. 9:00 am - 9:00 pm
Sat. 9:00 am - 6:00 pm
Sun. 11:00 am - 5:00 pm

Alexanian Barrie Store Interior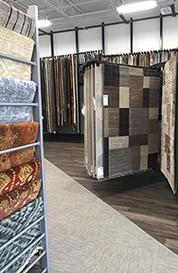 Pet Friendly Carpeting
My initial contact with Alex was positive, and when he followed up with a phone call we decided to pop in and see what Alexanian had to offer. Alex was aware of our needs (dogs, etc.) so had several types of carpet ready for us to look at. That made it so much easier! Alex came out himself and took accurate measurements and helped me decide between the two colours of samples we had brought home. Delivery and installation was a breeze. Adam, the store manager, was able to change our installation date on very short notice. The installers were great. They called before they arrived, introduced themselves, spoke to the dogs and got right to work. The installation went quickly and they reviewed everything with me and made sure I was satisfied. I really appreciated how they acted and the job they did. I absolutely will buy carpet from this store again. Great job by Alex and the team!! Oh...and we love the carpet too!

TA, Barrie ON -
Amazing Customer Service
Alexanian provided amazing customer service with in depth info prior to our purchase so we ordered the right product for our custom home. After sales was excellent as we required a fix and was done quickly and efficiently. Would highly recommend Adam as your sales rep and this location for your flooring.

BL, Barrie ON -
Extraordinary Customer Service
Alex was incredibly helpful to us in choosing vinyl flooring for our kitchen renovation. He explained each benefit and challenge of each type, helped us select a pattern we liked. He then went over and above and delivered the flooring to our home when he found out that I was down with a flu bug and could not come to pick it up. That is extraordinary customer service. We will be doing our living room later in the fall and will definitely be back to consult with Alex on flooring.

RESPONSE

Hello Jim Thank you so very much for your kind review. Customer service is extremely important to all of us at Alexanian's and it is so nice to be recognized for this. We're happy to hear that Alex at our Barrie store was able to help you find the perfect vinyl flooring for your new kitchen and go the extra mile when it really counted ... although it comes as no surprise, Alex is such a nice guy and cares a great deal about his customers ... you were in good hands;). We hope you are enjoying your newly renovated kitchen and just in time for Thanksgiving!! I will be sure to share your wonderful review with Alex and no doubt, he looks forward to helping you again with your living room. Sincerely, Wendy Alexanian

Jim, Barrie ON -
Thrilled with my new Luxury Vinyl Plank Basement Flooring in Barrie Ontario
Absolutely thrilled with the way the floors turned out!!!! Adam was terrific in helping us select the right products for our situation and getting the colours rights to match existing hardwood staircase. Manny and his team did a great job on all three floors. Installed vinyl plank in the basement and engineered hardwood on the main and upper floors. All look amazing and their attention to detail was excellent. I would definitely recommend Barrie Alexanian.

RESPONSE:

Hello Nora
Thank you for your absolutely glowing review of our Barrie store manager Adam and his team of installers. We are so happy to hear that you are thrilled with your new Luxury Vinyl Plank basement floor and the engineered hardwood in the remainder of your home. It sounds like you certainly underwent a large renovation, hopefully now you can sit back and enjoy the holiday season in your beautiful home. I will be sure to pass along your kind words to Adam and the team, and appreciate your recommendation of Alexanian Carpet and Flooring Barrie.
Sincerely, Wendy Alexanian

N.F. Barrie ON -
Great Flooring Selection in Barrie Ontario
Was very impressed with the team at the Barrie location. I had the pleasure of working with Adam and Lisa who were fantastic. Selection, expertise and competitive pricing! Check it out...ask for Lisa B

RESPONSE:

How kind of you Mike for taking the time to post your review of Lisa and Adam at Alexanian / Barrie location. Offering an outstanding customer experience, insightful product knowledge and a vast selection of product at competitive pricing is pretty much our main goal ... to be acknowledged for all of these points ... well, it tells us we are doing something right:) Thank you! I will pass your review along to Lisa and Adam, they will be very happy to read this.
Sincerely, Wendy Alexanian

Mike, Barrie ON -
Fantastic Help Choosing our Area Rug and Window Blinds
Vanessa did a fantastic job of helping us choose our area rug and blinds - Excellent customer service and delivery was as promised. Thanks so much - we'll be back 😃

RESPONSE:

Hello Nigel Thank you for your wonderful review of Vanessa at Alexanian Barrie location. We are so happy to hear that you had a great experience and I know Vanessa looks forward to helping you again. Sincerely, Wendy Alexanian

Nigel, Barrie ON -
Love The Carpets
I love the carpets and the service was amazing. Thank you so much.

Wendy S Barrie ON -
Best Customer Service I've Ever Received
I went in to the Barrie store with a lot of questions regarding a basement renovation floor that we were looking into. Alex it's very patient, answered all my questions, and showed me several different products that would work. I have been into several flooring stores previous but no one has ever taken the time to explain how each product worked and why. The customer service there I have never experienced anywhere else I would definitely recommend them.

RESPONSE:

We welcome customers with LOTS of questions! Alexanian's sales professionals are highly trained and strongly believe in educating clients outlining all the pros and cons of various flooring products and the best application of each, considering moisture, pets, children, humidity, etc. We're so pleased to receive your amazing review of sales rep Alex at Alexanian's Barrie store ... you were definitely in good hands and Alex will be more than thrilled to read your kind words. Thank you again and we appreciate your recommendation of Alexanian Carpet and Flooring / Barrie.
Sincerely, Wendy Alexanian

Private HomeStars User, Barrie ON -
Alexanian Barrie - Come and be inspired!


Alexanian's Barrie location offers some of the most innovative flooring and window covering options in the region and our focus on installation and service means that we are always here to help. Whether you are having your Hardwood flooring installed, or having a custom area rug fabricated our team will always ensure that you are informed every step of the way from your initial contact through the installation and delivery process. With so many options available, you can depend on our flooring representatives to answer any of your questions and determine which floors will be best suite your lifestyle. Our staff welcome the opportunity to make this process enjoyable and fun. Looking for something out of the ordinary? Let us help you find it. And with our buying power, you will enjoy great savings! Some of the Brands at Alexanian's Barrie Store:
Karastan fine rugs and broadloom
Fabrica Carpet
Masland Home
Shaw Floors
Mohawk Floors
Nourison Rugs & Broadloom
Stanton carpet
Feizy Rugs
Preverco Hardwood Flooring
Mannington Flooring
Hunter Douglas Window Coverings
California Shutters
Signature by Shelley Alexanian in rugs, carpet, and hardwood flooring
and so many more...
Back to stores list